East Sea Institute
The East Sea (South China Sea) Institute was officially established under Decision No. 29/2012/QD-Ttg, (which came into force on the 1st September 2012) on the 12th July 2017 by the Prime Minister as a Research Institute within the Diplomatic Academy of Viet Nam (DAV).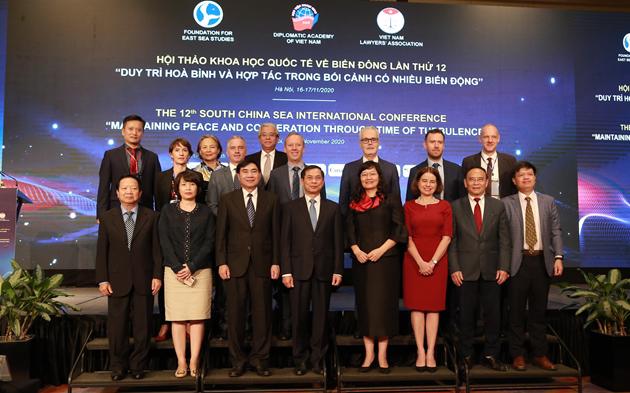 History and Development
Its predecessor was the Program for East Sea Studies and, later, the Center for East Sea Studies (established on 14th December 2001, pursuant to Decision No. 635/QD-BNG by the Minister of Foreign Affairs of Viet Nam) under the Institute for Foreign Policy and Strategic Studies, DAV.
It consists of four (4) centres:
+ Centre for Policy Studies,
+ Centre for Legal Studies,
+ Centre for International Cooperation,
+ Centre for Information and Analysis.
Five (5) working groups:
+ Southeast Asia Working Group,
+ China Working Group,
+ US-EU Working Group,
+ Middle Powers Working Group,
+ Other working groups for specialised areas.
Outstanding accomplishments
- The organisation of a number of international conferences both inside and outside Vietnam, especially the series of South China Sea Conferences - an annual international event, drawing the attention of both politicians and scholars from around the world;
- Seminars held regularly to provide information and discussion on the situation in the East Sea;
- Frequent academic exchanges conducted with foreign agencies;
- The establishment and maintenance of a website devoted to East Sea studies, and a documentation centre which contains comprehensive and up-to-date information concerning the South China Sea;
- Ongoing work to construct a network of research institutes and prestigious scholars all over the world. Researchers from the East Sea Institute have proactively participated in, and made presentations at, various international conferences, having written and published research articles relating to the East Sea in scientific journals and magazines inside and outside Vietnam.
Mission Statement
- To undertake research and policy recommendations on the protection of Vietnam's interests and sovereignty;
- To provide situation analyses and assessments to other agencies and leaders of the Ministry of Foreign Affairs and higher;
- To promote cooperation in the East Sea in political-security and legal areas;
- To continue to carry out academic activities and cooperation on the East Sea, by disseminating information, as well as collecting and utilizing documents and materials on the East Sea;
- To act as a focal point of coordination for domestic organizations, agencies, and Vietnam's diplomatic missions.