English Faculty organized workshop on "Writing a Diary: Applying Positive Psychology in Life and Study"
In the framework of the "Writing Center" sponsored by the US Embassy to Hanoi, the English Faculty under the Diplomatic Academy of Vietnam (DAV) organized a seminar on "Writing a Diary: Applying Positive Psychology in Life and Study" via Zoom on the evening of April 26th 2022.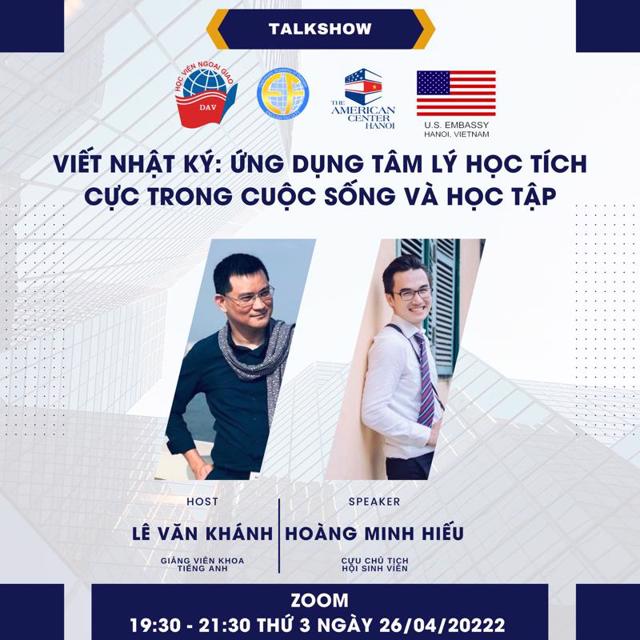 The seminar enjoyed the attendance of speaker Hoang Minh Hieu - former President of the DAV's Students Association, who belonged to the 36th class of English major. He is currently pursuing a master degree in Positive Psychology at the University of East London, the UK. The event attracted the participation of many students of the DAV's 48th class from different majors.
Prior to the talk, Mr. Le Van Khanh, lecturer of the English Faculty, who is also the host of the event, conveyed students' hope for learning how to embrace positivity in life and study, especially after a prolonged period of online learning due to the Covid-19 pandemic.
Sharing with the students, Mr. Hieu talked about how he stumbled upon Positive Psychology. He gave explanations on psychological concepts, positive psychology, and the differences between positive psychology and traditional one. He also shared Five PERMA elements that contribute to happiness namely P (Positive Emotion), E (Engagement), R (Positive Relationships), M (Meaning), and A (Achievement). Through each section of the talk, Mr. Hieu cited examples of personalities who successfully adopted a positive lifestyle, who always look to the future, as well as contradicting views about a happy life. In return, the students had a chance to express their opinions on such matters.
The students were particularly interested when Mr. Hieu gave exercises and practical applications to have a more positive life. In each exercise, the students were given the opportunity to practice and share their own stories, all of which were understood and appreciated by Mr. Hieu.
Throughout the seminar, Mr. Hieu emphasized the importance of gratefulness, as it is the vital element of happiness, helping each person to embrace positivity and overcome difficulties in life and study.
The students also asked about how to write a diary regularly and effectively, as well as how to share their feelings with people, how to stop comparing themselves with others, among other topics. Mr. Hieu expressed his delight and highly valued all questions. His responses were filled with positivity and encouragement.
At the end of the event, Mr. Hieu talked about how to distinguish "pessimism" and "optimism", and suggested a range of topics on which the students can write a diary.
The seminar concluded with a lot of valuable takeaways for DAV students about the meaning of life, how to become more confident in life and study, especially in the diplomatic environment.