Estonian Foreign Minister had talk at DAV
On September 13, in the framework of his official visit to Vietnam (September 12-14) Estonian Foreign Minister Sven Mikser had a talk with staff, lecturers and students of the Diplomatic Academy of Vietnam (DAV) with the theme "Estonia and E-Government".
Mr. Sven Mikser shared his feelings when coming to Vietnam for the first time as Foreign Minister. The Minister said he was delighted to see the progress in the bilateral relations in many fields, especially in political, economic and cultural fields.
Foreign Minister Sven Mikser introduced Estonia's foreign policy as a small country in Europe (with over 1 million people). Estonia celebrated its 100th anniversary earlier this year, and since independence Estonia had been pursuing a foreign policy of European (EU, NATO) and global (via the UN) integration.
The Minister informed that to exploit the potential of a small country, Estonia focused on building an e-government system, an e-country, expanding access to the internet for the citizen, building management platforms such as integrating information of citizens in an electronic card, using electronic signatures in transactions, accessing online public services (such as healthcare, education, tax declaration ...)
Estonian government also worked with service providers (such as banks, network operators,...) to strengthen security and privacy for electronic data and prevention against cyber crime.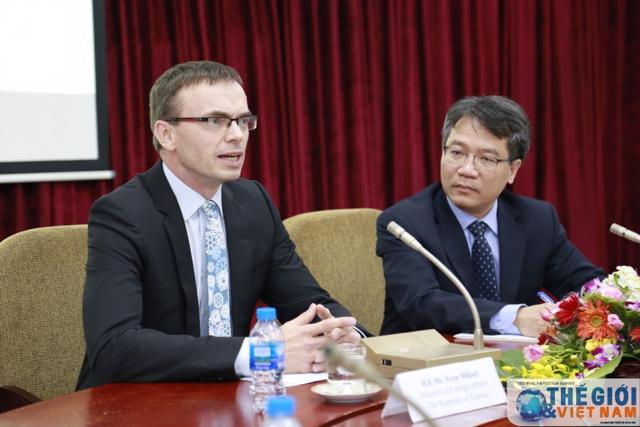 Foreign Minister Sven Mikser affirmed that Estonia paid attention to sharing experience in building an e-government with partner countries in Africa such as Namibia and in Asia such as Vietnam and considered this as an opportunity to boost bilateral cooperation.
The students posed a number of interesting questions for Mr. Sven Mikser on his experience as a young and bravery foreign minister and was explained in details.
Foreign Minister Sven Mikser ended the talk by expressing his wish that young Vietnamese diplomats would improve their skills, especially in multilateralization.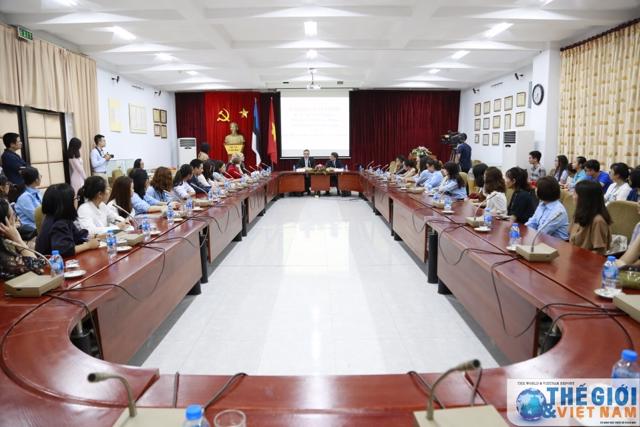 President of DAV Assoc. Prof. Dr. Nguyen Vu Tung sincerely thanked Foreign Minister Sven Mikser for having an informative and lively talk with DAV students as well as wishing that the relationship between the two countries would prosper in the future.