DAV English Faculty Organizes Talk on "Diplomatic Beauty" for Freshmen, Intake 48th.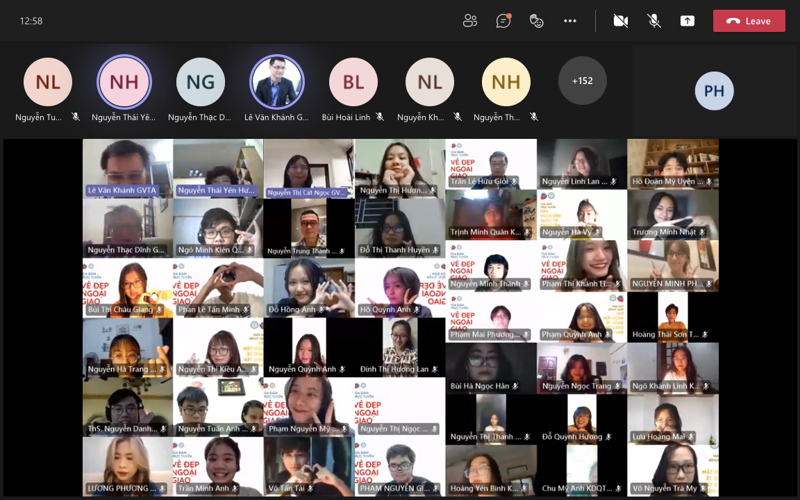 On the evening of September 5th, 2021, the DAV English Faculty held a talk on "Diplomatic Beauty" via Microsoft Teams with a special guest, Ambassador Prof. Dr. Nguyen Thai Yen Huong. Present at the program were Dr. Nguyen Thi Cat Ngoc, Dean of DAV English Faculty, Ambassador Nguyen Trung Thanh, and Ambassador Nguyen Thac Dinh, lecturers of the English Faculty as well as nearly 200 freshmen from intake 48th.
To begin with, Ambassador, Prof. Dr. Nguyen Thai Yen Huong shared the beauty of diplomacy from her perspective. The common image for a diplomat is formality, politeness, elegance but grace, and the combination of "hardness" and "softness" which goes together to create a perfect diplomatic model. However, diplomatic beauty does not simply lie in the image of graceful and well-dressed women. Ambassador Huong believes that she is not charming or gentle, but confident in her wisdom, determination, and sharpness as well as softness in the way she behaves with people so that she is certainly qualified to accomplish a diplomat's duty. With starting point as a student specializing in mathematics; however, she changed her career path to work on diplomacy and history research, which she considers as a rough and long-life destiny. Ms. Huong pointed out two other essential features of diplomats including confidence and flexibility. "A beautiful diplomatic should be flexible and adaptable", she said. "Besides, diplomats are required to be themselves and confident in themselves!" She added. The beauty of diplomacy assists diplomatic staff to gain confidence in working as representatives for the country and having dialogues with partners in other countries. For Ms. Huong, the Diplomatic Academy of Vietnam (DAV) is such a favorable environment that equips students with necessary manners such as confidence, adaptability, and flexibility in addressing numerous circumstances. The DAV not only systematically trains specialized knowledge but also provides students with various opportunities in practicing and cultivating savoir vivre as well as personal personality. Thus, students can prepare themselves to "go beyond the border" as well as integrating into the international environment. The knowledge background and thinking would help students be recognized and create necessary skills; however, students also need to classify and process information for their own sake.
Joining the talk, Ambassador Nguyen Trung Thanh affirmed that diplomatic beauty lies in human core and values. "Even Michael Jackson changed his skin color, he was still a black and he was still admired by million people for his extraordinary talent, not for his skin color" he said. A person is only recognized when they understand how to assert themselves, behave well with others, keep learning and seeking knowledge beyond their expertise. Explaining why female diplomats stood out, Ambassador Nguyen Trung Thanh supposed the beauty comes from their energy, intellectual thinking, and interaction which is deprived of good skills. When their beauty stems from the inside, the energy will attract people. Self-consciousness, "knowing oneself" and studiousness could help us to possess beauty, which not only creates values but also contributes to spreading energy and positive spirits to those around us. The Ambassador believed the beauty was countless by time, but it requires a long process of making progress, self-improvement, enrichment of knowledge and personal experience. Each individual should not be self-imposed, self-delusional as "empty vessels which make the most noise", or impractical as "a frog sitting at the bottom of the well".
In addition, Ambassador Nguyen Thac Dinh highlighted that diplomatic beauty often comes from an overall perspective of circumstances, the abilities to judge and make judgments, especially in the Fourth Industrial Revolution era. He affirmed that the beauty of diplomacy is not in its form, but in grasping and mastering modern and comprehensive diplomacy.
Within a 150-minute talk moderated by Mr. Le Van Khanh, class teacher of high-quality classes of intake 48th, the interactions among the lectures, freshmen and distinguished guests were exciting. There were a number of interesting and professional questions, and the distinguished guests not only answered the questions but also brought new but close lessons on the concept of "Diplomatic Beauty" based on their personal and rich living experiences. At the end of the program, Dr. Nguyen Thi Cat Ngoc thanked Ambassador Prof. Dr. Nguyen Thai Yen Huong, distinguished guests for taking part in the talk. Agreeing with the viewpoint of diplomatic beauty, Ms. Ngoc emphasized: "Each student needs to learn how to cooperate and make the best out of all resources because it is not only a professionally useful skill, but also helps us in daily life". "If you want to go fast, go alone. If you want to go far, go together."