Special Talk on "Vietnam - U.S. Economic Relations"
On the afternoon of April 18th, students of DAV's 46th class, majoring in International Economics, were honored to participate in the talk on "Vietnam - US Economic Relations" by MSc. Nguyen Dang Trung, Deputy Director of the Department of Multilateral Economic Cooperation, Vietnamese Ministry of Foreign Affairs. Also present at the talk were Assoc.Prof.Dr. Dang Hoang Linh - Deputy Director, Deputy Head of the Department of Academic Affairs, Dean of the Faculty of International Economics under the Diplomatic Academy of Vietnam (DAV) and MSc. Nguyen Thi Thu Hoan, DAV Head teacher of the 46th class, the Faculty of International Economics.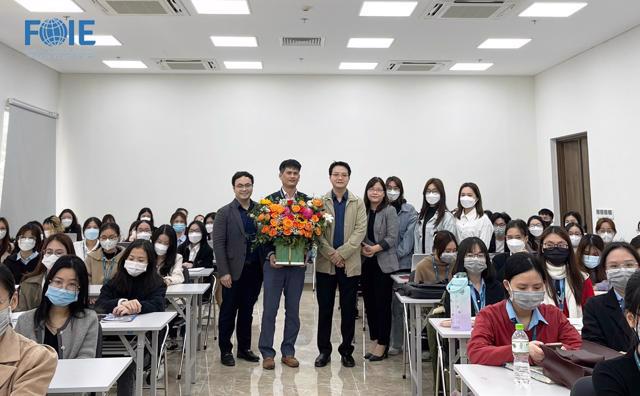 At the opening of the talk, MSc. Nguyen Dang Trung mentioned the importance of Vietnam-U.S. economic cooperative ties via some significant programs such as the U.S. - Vietnam Bilateral Trade Agreement (BTA) or mutual support in the COVID-19 pandemic through the large supply of vaccines and medical equipment from the U.S. to Vietnam. The cooperation between Vietnam and the U.S. is becoming proactive, comprehensive, and fruitful in numerous fields, not only in economics but also in politics - security, typically the East Sea security issue. Thanks to the promotion of cooperation between the two countries, the total trade turnover of goods between Vietnam and the US in 2021 reached over $110 billion, an increase of nearly 30 times compared to the bilateral turnover in 1996.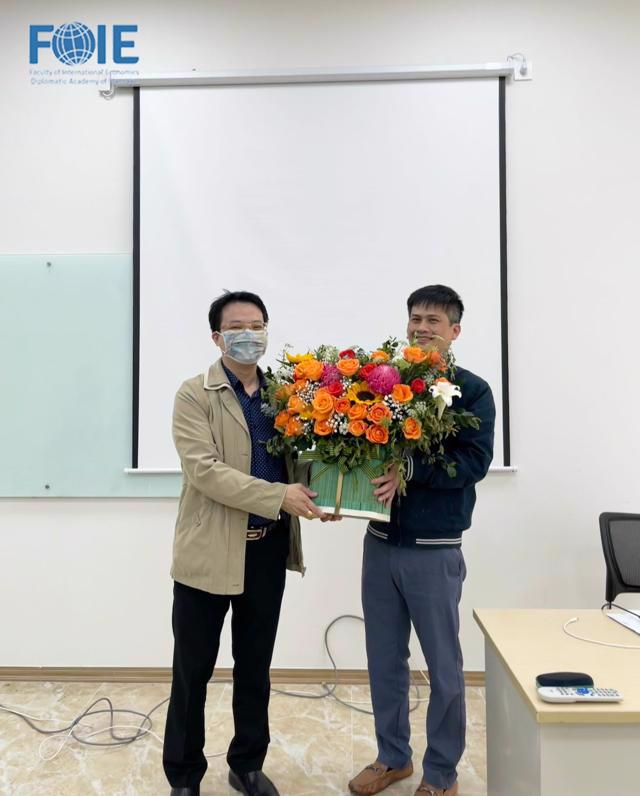 Besides the positive results, MSc. Nguyen Dang Trung also mentioned a number of issues in Vietnam - U.S. economic cooperative ties such as quality and origin of goods exported to the U.S., tightening origin investigation of the U.S., and some U.S. requirements related to improving the quality of Vietnamese labor, etc. Furthermore, the speaker shared Vietnam's resource potentials which the U.S. can invest to enhance development cooperation. Specifically, the U.S. has paid more attention to the energy sector in Vietnam via large gas power projects investment, supporting energy use conversion from fossil fuels to clean, renewable energy sources.
One of the interesting parts was the speaker talked about the American way of thinking, approaching foreign issues, and work ethics. According to Mr. Trung, the U.S. has been a major player in creating the world's economic framework. Large economic forces such as oil companies and banks are all influencing global economy to serve the stabilization and growth. In addition, during the COVID-19 pandemic, the U.S. has conquered and responded to the pandemic confidently. The U.S. can predict the economic situation to promptly respond, improve and develop.
The talk ended with interesting and practical questions from the students. Words of encouragement, and enthusiastic answers were shared by the speaker. Finally, the Faculty of International Economics would like to thank MSc. Nguyen Dang Trung for spending his precious time with DAV students of the Faculty of International Economics. We wish MSc. Nguyen Dang Trung great health and success in work and in life.
-------------------------------------------------------
Fanpage: Khoa Kinh tế Quốc tế - Học viện Ngoại giao
https://www.facebook.com/KhoaKinhTeQuocTeDAV/
Email: khoakinhte@dav.edu.vn