Annual dialogue among the DAV – CICIR – SIIS
In the framework of cooperation between the Diplomatic Academy of Vietnam and China Institutes of Contemporary International Relations (CICIR) and Shanghai Institutes for International Studies (SIIS), from 22-28 June 2010, the delegation of the Academy led by the Director of the Diplomatic Academy of Vietnam Mr. Duong Van Quang has participated in the annual dialogue with CICIR, SIIS, Institute for International Political Economy at the Chinese Academy of Social Sciences (CASS) and China Institute of International Studies under the Ministry of Foreign Affairs of China (CIIS). Welcoming the delegation were CICIR's Director Cui Liru, SIIS's Director Yang Jiemian, former Rector IWEP Gu Yuan Yang, CIIS's Director Qu Xing and other Chinese scholars.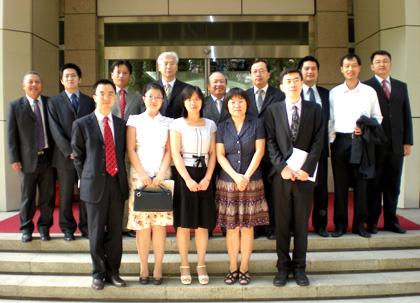 CICIR is the leading research institute on foreign affairs and strategic foreign relations of China. It is also home to great ideas of China's important strategic foreign relations. SIIS is a specialized research institute on international political issues, regional situations and China's foreign policies with major countries, international issues, East Asia, Asia and the Pacific. Annual bilateral dialogues with SIIS and CICIR are important channel II academic activities of the Academy.
Diplomatic Academy of Vietnam delegation exchanged views with Chinese scholars on issues of mutual interests such as the views of China and Vietnam on the international and regional situations as well as the Vietnam - China relation at present. Specifically, the two sides had dialogue on China's views on "harmonious world", on both sides' recognition of the security structure in Asia and the Pacific region as well as other flash points such as the Korean Peninsula, Taiwan Strait and South China Sea. Regarding bilateral relations, the two sides discussed measures to build confidence between the governments and the two peoples.
The dialogue took place in a straightforward atmosphere, open and friendly between Vietnamese and Chinese scholars. This is a practical contribution to enhancing trust and scientific cooperation between the Diplomatic Academy of Vietnam and the Chinese Research Institutes in particular and between the two countries in general. The two sides agreed on strengthening this research exchange channel through different activities.