Session 2: Virtual Talk on "DAV - Journey to Becoming Global Citizens"
On the morning of August 29th, 2021, following the success of the previous session, the DAV's Board of Academic Affairs, and the Youth Union as admission advisory team held the second session of the online talk series on "DAV - Journey to Become Global Citizens" for new students from intake 48 and high-quality students from classes of intakes 45, 46 and 47 majoring in International Communication, International Law and English Language.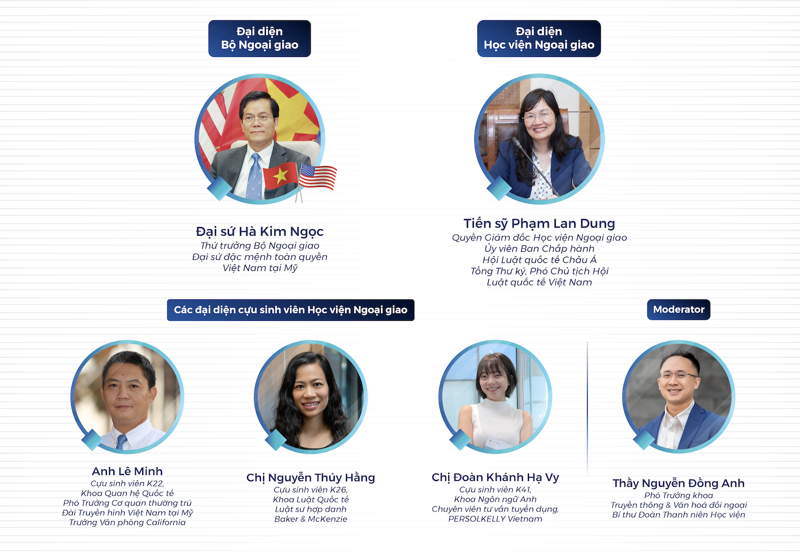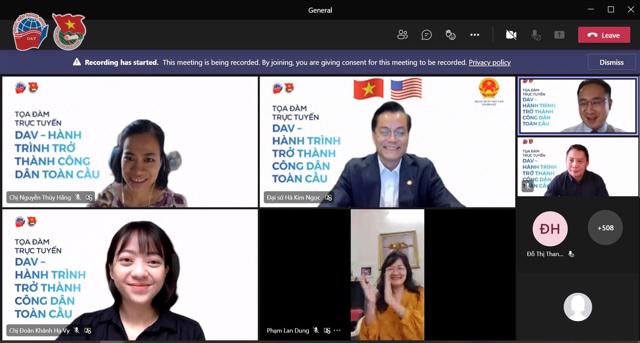 Present at the talk were a special guest - Deputy Minister of Foreign Affairs Ha Kim Ngoc, who is now Ambassador Extraordinary and Plenipotentiary of the S. R. Vietnam to the United States of America; Dr. Pham Lan Dung, DAV Acting President, Director of Foreign Service Training Center (FOSET), Member of Executive Committee of Asian Society of International Law, Secretary General, Vice President of Vietnam Society of International Law.
On behalf of the DAV's alumni, there was a participation of Mr. Le Minh, alumnus of intake 22 from the Faculty of International Politics and Diplomatic Studies, Deputy Head of Correspondent Agency under Vietnam Television station to the US, Head of the California Office; Ms. Nguyen Thuy Hang, alumnus of intake 26 from the Faculty of International Law, partner of Baker & McKenzie; and Ms. Doan Khanh Ha Vy, alumnus of intake 41 from the Faculty of English Language, HR Consultant of Persol Kelly Vietnam. The talk was moderated by Mr. Nguyen Dong Anh, Vice Dean of the Faculty of Communication and External Culture - Secretary of the DAV Youth Union.
To begin with, different views on "Global Citizens" were discussed by Ambassador Ha Kim Ngoc, Dr. Pham Lan Dung, and the DAV's Alumni. Each speaker brought new and diverse perspectives to the students. They pointed out that young people these days have been joining a global network from personal things such as playing games, using social networks, or traveling abroad. However, in order to truly become a "global citizen" in a broader sense and to be successful and responsible for national interests, they need to understand and make great efforts to become friendly, knowledgeable, and polite ambassadors for their country every time and everywhere.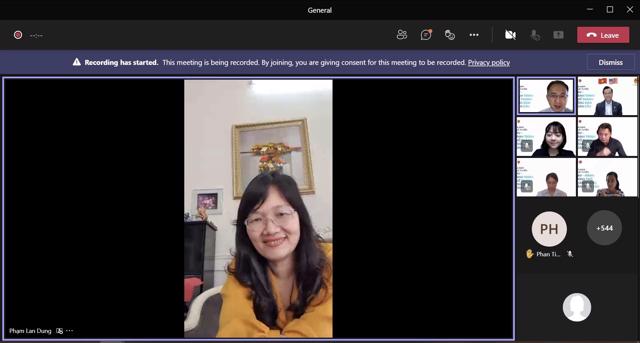 The students later had an opportunity to listen to valuable sharing and advice drawn from the speakers' learning and hands-on experiences. Ambassador Ngoc talked about interesting stories when he was a student at the International Relations Institute which is now known as the Diplomatic Academy of Vietnam and working practices as a diplomat, specifically as an Ambassador to the United States of America, the efforts of the diplomatic service that have brought Vietnam valuable vaccine aids from the United States and other countries in the context of the spreading Covid-19 pandemic.
The Ambassador emphasized that no matter how difficult the situation is, young people should be prepared to overcome visible and invisible barriers to integrate, access information and develop themselves as well as to devote themselves to the national interests. When it comes to global integration, students need to keep their "Vietnamese" identity with an "open" mind, try to avoid clustering or conceiting. At the same time, thinking, acting and global influence are essential factors that young people need to study and practice to become successful global citizens, the Ambassador affirmed.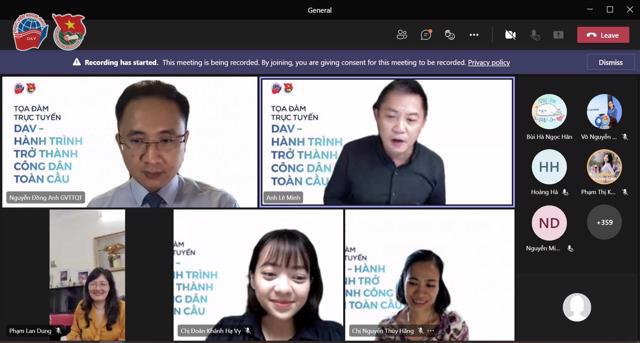 Following by Ambassador Ngoc, Dr. Pham Lan Dung, DAV Acting President affirmed the differences and the relative advantages of being DAV's students compared to other educational institutions in the integration process. She also reminded that they should constantly keep studying and promoting their capacity, and seize the opportunities that lecturers offer from their enthusiastic lectures to maintain and develop the brand of "DAV students" in a new competitive environment.
From the talk, students majoring in International Communication, International Law and English Language enjoyed opportunities to interact with DAV's former students of the same major, sharing the same pride in being parts of the Academy. Mr. Le Minh, an alumnus from 22nd intake, shared that the Academy was a place where he cultivated himself from professional knowledge to foreign language skills. DAV has created an important network to make him confident and easy when working as a reporter of Vietnamese television station or in an international environment. Ms. Nguyen Thuy Hang, an alumnus from 26th intake, believed that it is easy and flexible for her to work as a partner in a multinational environment thanks to the internship which allowed her to fully take advantages of the skills that DAV equipped her from the start. Ms. Doan Khanh Ha Vy, a former English majored student from intake 41, advised students to make the most of their time studying at the Academy, and focus on learning as well as to be open and confident to participate in extracurricular activities to accumulate valuable knowledge and skills for future work.
In an atmosphere of intimacy and excitement, the students enthusiastically asked the speakers many interesting questions from international issues such as Vietnam-US relations, handling "sensitive" political situations to concerns about career opportunities, advice on overcoming learning difficulties, study - work and personal life balance.
To end the talk, on behalf of the event organizing committee, Mr. Dong Anh - the moderator thanked the guest speakers for their enthusiastic and sincere sharing, for inspiring and giving the students profound orientations as well as practical and useful experience to help them stay strong in the future study and life. Mr. Anh also wished the speakers and the students to stay healthy to overcome the Covid 19 pandemic and hoped to see them again in other interesting programs that the DAV will offer./.