AMBASSADOR FORUM IN FEBRUARY, 2018: Chief Representative of UNESCO Office in Viet Nam dialogues with DAV staff and students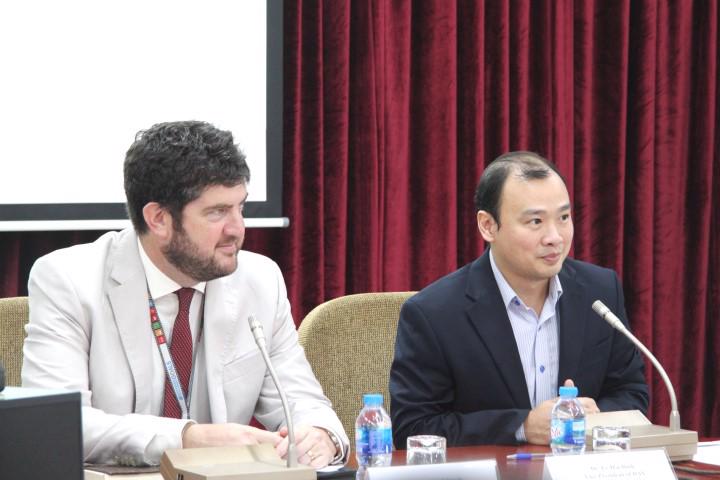 Within the framework of the 2019 Ambassador Forum held by Diplomatic Academy of Viet Nam, on the afternoon of February 20th, 2019, Chief Representative of UNESCO in Viet Nam Michael Croft had a dialogue themed "UNESCO's policy on world heritage and sustainable development and challenges for Viet Nam in preserving heritage".
Vice President of Diplomatic Academy of Viet Nam Le Hai Binh chaired the talk. The participants included: Pham Thi Thanh Huong, Head of UNESCO's Cultural Department in Viet Nam, Nguyen Thi Dung, Secretary of Chief Representative, Dr. Nguyen Phu Tan Huong, Vice Dean of International Politics & Diplomacy, as well as officials from Institute for East Sea Studies and Institute for Strategic and Foreign Policy Studies and 50 undergraduates from the Academy.
In his opening speech, Michael Croft affirmed that: When mentioning UNESCO, people tend to think immediately of culture and natural heritage preservation. However, nowadays, UNESCO does not only focus on these aspects. The objective of UNESCO's National Strategy in Viet Nam is to assist the Government in achieving the Sustainable Development Goals, contributing to socio-economic development through such aspects of the organization as education, science, culture, communication, and information.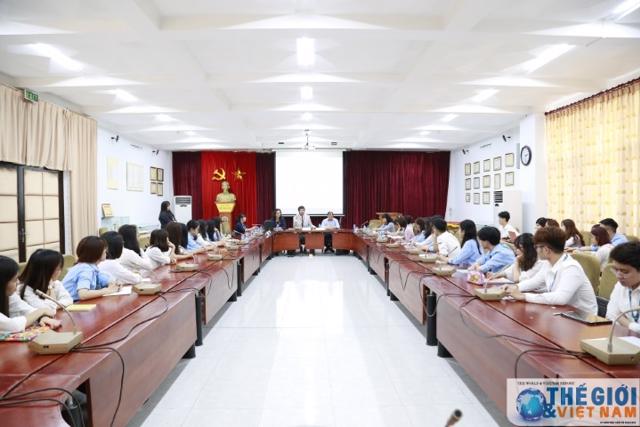 Chief Representative of UNESCO in Viet Nam emphasized that it was the intangible cultural heritage (dancing movements, songs, poems, etc..) that contributed to the Vietnamese identity. The preservation of the intangible cultural heritage requires continuity from this generation to the others, especially the young's participation. The world's cultural heritage is a part of the "soft power" possessed by each country. Throughout the history, Viet Nam has successfully utilized cultural diplomacy when encountering more powerful enemies several times. Vietnamese soft power is disseminated by millions of visitors to Viet Nam each year and the online communities. Currently, Viet Nam has the opportunity to leverage its national position and transform its image from a country renowned for wars into a peace-loving one.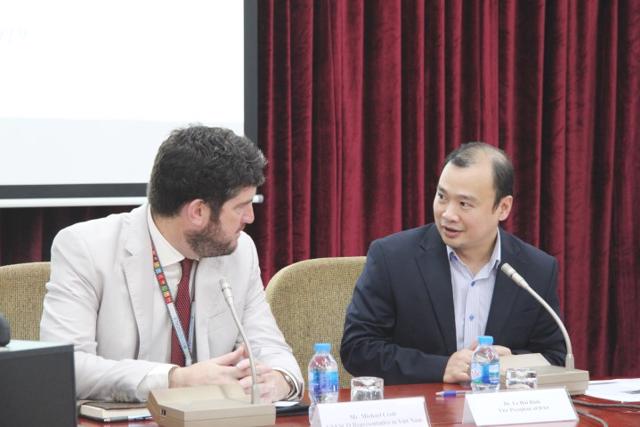 After finishing his presentation, the Chief Representative answered many questions relevant to the aforementioned main topic from the students and staff. The dialogue lasted for two hours and ended in a friendly atmosphere, offering DAV students and staff inspirations and new knowledge.