DAV English Faculty Organizes Exchange Meeting between Freshmen of High-QualityClasses, Intake 48 th and "Hotgirl" Khanh Vy, DAV Alumnus on English LearningTechniques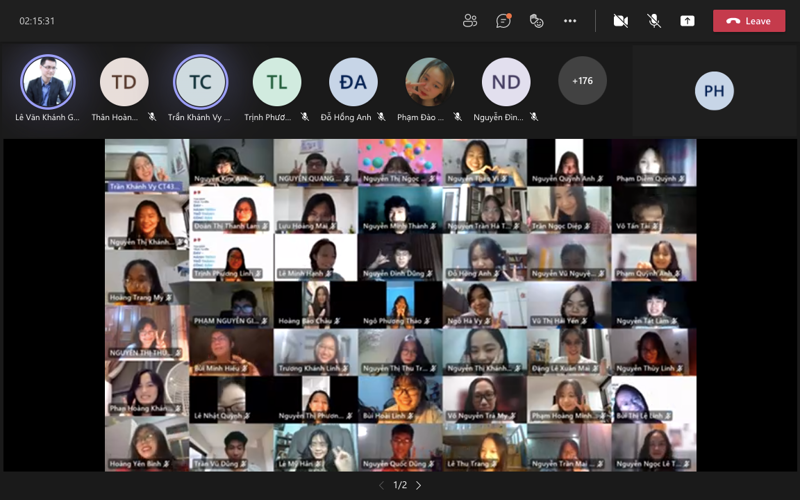 On the evening of August 31, 2021, the DAV English Faculty held a virtual exchange session on English learning methods for freshmen of high-quality classes, intake 48th with "hotgirl" Tran Khanh Vy, an alumnus of the Academy, a beautiful and talented MC at VTV7 and also a famous Youtuber in the young content creator community in Vietnam. Present at the meeting were also lecturers who are currently teaching at the English Faculty.
Khanh Vy, a former student from a class coded CT43C, graduated from the DAV with a distinction grade. She earned good marks in English for International Relations for 7 semesters while at the DAV. Despite not owning luxury brands, for her, the DAV degree is a valuable and proud possession. First known as "hotgirl who spoke 7 languages" since high school, Khanh Vy made every effort to pass the entrance exam to the DAV.
Khanh Vy shared that in the first academic year, she was quite subjective when she skipped classes for more than the allowed slots and thus she was banned from taking the General English exam. Vy considered it to be "the first big shock for a new student." Instead of feeling discouraged, she decided to learn from her own "shocks" and mistakes, took them as a personal motivation to improve herself every day. Vy focused on the lectures, kept asking questions, researched online learning resources such as The Economist or The Washington Post and diligently watched news on VTV. She felt very lucky to be able to learn and grow in a dynamic environment like at the DAV where the teaching staff is not only excellent at their expertise but also very sensible and friendly, and the students are enthusiastic, talented, and sociable. For Khanh Vy, besides lectures, 39 classmates are "effective mentors" for her to exchange and improve her knowledge of English for International Relations.
Sharing her secret to learning English, with listening skills, Vy introduced to the audience the "Shadowing" technique, that is to keep practicing listening, then to review the text you have just heard and read along to train your reflex. With writing skills, she was inspired by the Academic Writing course delivered by Mr. Le Van Khanh who encouraged students to write every day to become more confident in English writing. In addition, in order to have good communication skills, in any cases, Khanh Vy applied the "7 Cs"-rule, standing for "Clear - Concise - Correct - Concrete - Coherent - Complete - Courteous".
During the talk moderated by Mr. Khanh, the students of the high-quality classes, intake 48th enjoyed lively exchange moments with Khanh Vy. Vy herself was also delighted to have an opportunity to talk with the DAV younger generations as an alumnus. Living in an ever-changing world, she advised young people to keep trying. Only when they stumble, will they draw lessons and experiences as well as learning to adapt to the circumstances to create opportunities for themselves. Vy believed "learning is a long-term investment because it will follow you till the rest of your life." At the end of the talk, Vy encouraged the new students to keep a positive learning attitude and promised to meet them at the DAV if possible.