DAV English Faculty Organizes Virtual Talk on "Bilingual MC"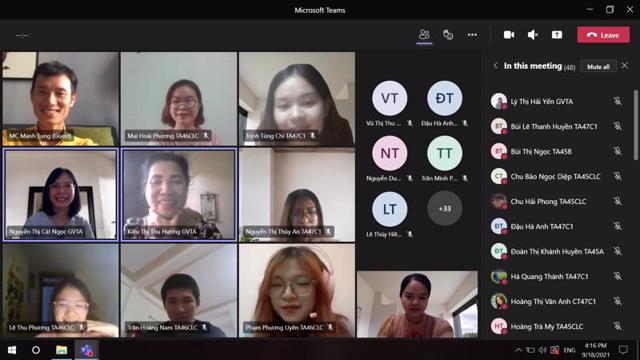 On the afternoon of September 18th, 2021, the English Faculty - Diplomatic Academy of Vietnam (DAV) held an online talk show on "Bilingual MC" with the participation of the guest speaker, Mr. Vu Manh Tung, bilingual MC, editor from Vietnam Television (VTV). Mr. Tung, known as a familiar face among TV viewers, participated in many VTV programs such as, S-Vietnam, Young Family, Firefly Lamp, Global Citizen, Economic Newsletter, and Delicious Food. Attending the talk were Dr. Nguyen Thi Cat Ngoc, Dean of the English Faculty (DAV), Assoc. Prof. Dr. Kieu Thi Thu Huong, lecturer in charge of high-quality classes (intake 47th), Ambassador Nguyen Thac Dinh, the English Faculty staff as well as nearly 70 high-quality students from classes of intakes 45, 46 and 47.
Right from the beginning, Mr. Tung, drew the attention of the participants and especially stirred up the dynamism and positivity among the students, with a "small test" from the MC which was a self-introduction on any assigned topic. Instead of giving a prepared speech, Mr. Tung asked the students to be active to ask questions to the guests themselves. Through answering questions from students, then he shared his career stories in an honest and close way with the students. For him, MC is not only a job, but it is also a necessary skill in today's era. This job requires improvisation, presentation skills, confidence, and grace even while working under pressure - these are things that not everyone can do. Knowing how to ask questions shows confidence, presentation ability and critical thinking are also essential factors towards the development and success not only for an MC but also for every citizen in this industry 4.0.
Mr. Tung also pointed out that in order to be successful as a host, talent plays only for a small part. It is mainly due to personal effort, and self-cultivation. It is important to keep improving foreign language skills, as for him, he uses English to learn from famous MCs in the world by watching their programs, analyzing, and drawing experience for himself. The "incidents" are also told in a witty and humorous way, and one of the lessons learned from those incidents is to have courage to stand up and move on.
At the end of the talk, Assoc. Prof. Dr. Kieu Thi Thu Huong thanked Mr. Vu Manh Tung, the English Faculty staff, and students for taking the time to attend this very interesting and useful talk. The sharing of career stories, practical experiences and sincere advice from the guests have brought valuable lessons and inspirations to the DAV students.