DAV's English Faculty Organizes DAV Diplomacy Simulation 2021 - Season 1 for Students from Intake 48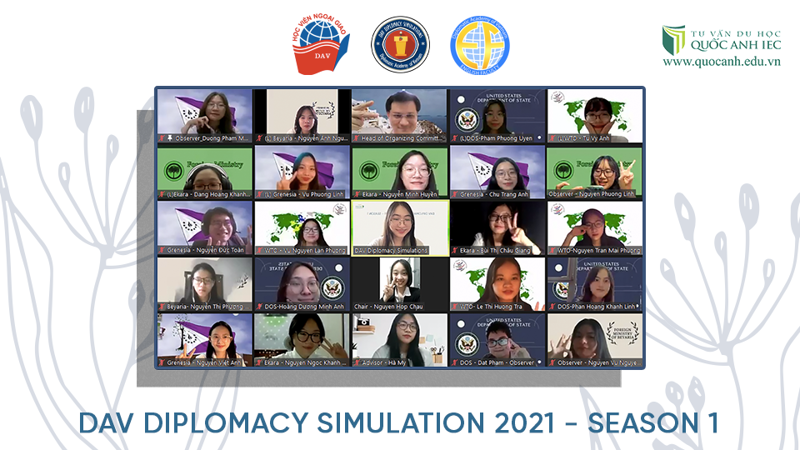 On the morning of September 4th, 2021, the English Faculty of Diplomatic Academy of Vietnam (DAV) organized DAV Diplomacy Simulation 2021 - Season 1 via Zoom with the participation of Dr. Tran Thi Thanh Lien, Vice Dean of the English Faculty, Mr. Le Van Khanh, supervisor of the high-quality English language classes from intake 48, Ambassador Nguyen Thac Dinh as well as freshmen from the 48th intake. After long hours of exciting discussions and debates, Grenesia was the winning team, and they were awarded the "Best Team" and the "Night Owl". Vu Phuong Linh, a member of the team and also a first-year student majoring in International Law, was crowned the "Best Delegate". Following are Linh's remarks:
Can you introduce yourself?
Hello everyone, my name is Vu Phuong Linh. I am currently an International Law first-year student at the Diplomatic Academy of Vietnam. As the leader of Grenesia, I am happy to be here and share my experience with you all.
How did you find out about the event? Have you had any previous experience in participating in a similar program?
As I remember, it was quite late at night when I received a notification from the 48th Intake Facebook group run by Mr. Le Van Khanh, who supervises English Faculty-related courses and activities. It was an announcement of the DAV Diplomacy Simulation 2021 - Season 1. Being the first-year student and quite inexperienced, I wanted to challenge myself by participating in the contest to get to know and share experience with new friends. Earlier in my high school, I also took part in Model United Nations simulations and now, as a DAV student, I want to keep learning and improving my negotiation skills.
How did your team prepare before the competition?
Our team had very detailed meetings just 5 days before the event to map out the strategy that best suits the team's assigned role and related topics. Overall, even though the situation we were in seemed a bit unfavorable, we were still very much in agreement to compose a "draft resolution" in advance and actively negotiated with other teams. There was a time when we stayed up until 3 a.m. and got up at 6.30 am to join our group discussion. Tired though we were, we all felt happy and proud to be able to work with each other! "Teamwork makes the dream work and I stand by that belief!"
How did you and your team perform during the simulation?
On the morning of the competition, we divided our members into pairs of 3-3 , 3 of whom welcomed other delegates for negotiating, the other 3 visited and negotiated with other representatives' rooms. We had a tight strategic agreement prior to the event, therefore during the meeting, our team's negotiation went very smoothly.
Your group has won the top award. Can you share your feelings when you heard the announcement of the award?
We were all very touching when we won the "Best Team Award". I personally earned the "Best Delegate Award". When the award was announced, a few members of our team burst into tears because our efforts were properly recognized. After the simulation, we also called each other until late at night and promised to have a food tour along Chua Lang street together. So, we have found good friends to spend our 4 academic years together!
What would you like to say to young people who want to join the next seasons?
I have some advice for those who want to participate in the next season: Be calm, be confident and prepare a suitable strategy, and above all, you must always take cooperation into consideration. Divide the work in a way that matches the strength of each individual, because only then can all shine together.
Do you plan to participate in similar competitions? If yes, can you name some of them?
I will definitely participate in many other similar activities to improve my skills even further, and above all - to make a lot of new friends. My recommendation to you all is to join a lot of simulations so that you can sharpen your negotiation and communication skills. Please keep an eye out for conferences and keenly seize every opportunity to improve yourself!
Thank you for your sharing! I hope you will always shine and be successful with your plans!
* DAV Diplomacy Simulation 2021 - Season 1 is an activity organized by DAV's English Faculty to help students develop diplomatic skills. The contest challenges students to experience being a diplomat to solve global issues, strengthen negotiation skills, problem-solving skills, as well as proposing solutions and making profound arguments on diplomatic issues. DAV Diplomacy Simulation 2021 - Season 1's awards and information on scholarships for studying abroad were sponsored by Quoc Anh International Educational Consultancy company (IEC).