Virtual Talk on "Decoding Qualities and Working Skills for Gen Z"
Gen Z is considered to be generations of technology, born in the era of the Internet development, and Gen Z is known as digital citizens, "leaders" in the process of changing and building the world in the future. As new students (Gen Z) at the Diplomatic Academy of Vietnam (DAV), what skills and qualities do they need?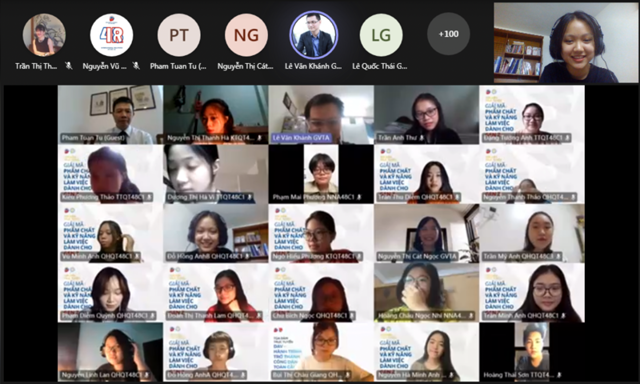 Aiming at providing new students, Generation Z (intake 48) with essential qualities and skills to adapt and develop during their studies at the DAV and upon graduation, on the afternoon of September 15th, 2021, the English Faculty organized an online talk entitled "Decoding Qualities and Working Skills for Gen Z" with the participation of Mr. Pham Tuan Tu, former Deputy General Director, Senior Vice President of Citibank Vietnam, President of Global Petro Bank, JSC in Vietnam, Banking and Finance, Investment Consultant to the Federal Republic of Germany; Dr. Nguyen Thi Cat Ngoc, Dean of the English Faculty (DAV); Dr. Tran Thi Thanh Lien, Vice Dean of the English Faculty (DAV). The talk was moderated by Mr. Le Van Khanh, lecturer of the English Faculty, and this event also had the presence of more than 200 new students - DAV's Generation Z.
During the talk, Mr. Tu shared his values about his past positions, from which he drew a lot of practical experience to create his own values. He disclosed that everyone has the same starting point, but to succeed they have to develop themselves from their individual efforts, their will and desire to work. Apart from "talent" and "morality" which are frequently discussed in society, "will" is also necessary to succeed in the long run, he added.
Besides that, "success does not mean wealth; it is how we are able to contribute to society" Dr. Tran Thi Thanh Lien, Vice Dean of the English Faculty said. She also affirmed that social networks are tools to help us create values for ourselves and society. Therefore, Gen Z should know how to use it properly, but should not let themselves be manipulated by social networks.
The event is an opportunity for new students to meet, exchange and share with the speakers their concerns and issues related to job interviews and corporate culture. Through this, the new students would have deeper perspectives on future employment and thereby making more efforts in studying and improving themselves. They also wish to participate in more useful events like this in the future.
By the end of the talk, Dr. Nguyen Thi Cat Ngoc confirmed "the meaning of success, which, for her, is when living, it is necessary to create values for ourselves, for society and for the country. For students, they should define their focus in 4 academic years in order to create values for themselves, for friends and teachers, and later for the country".